Change-Making Office Renovations: An Eye-Catching Refresh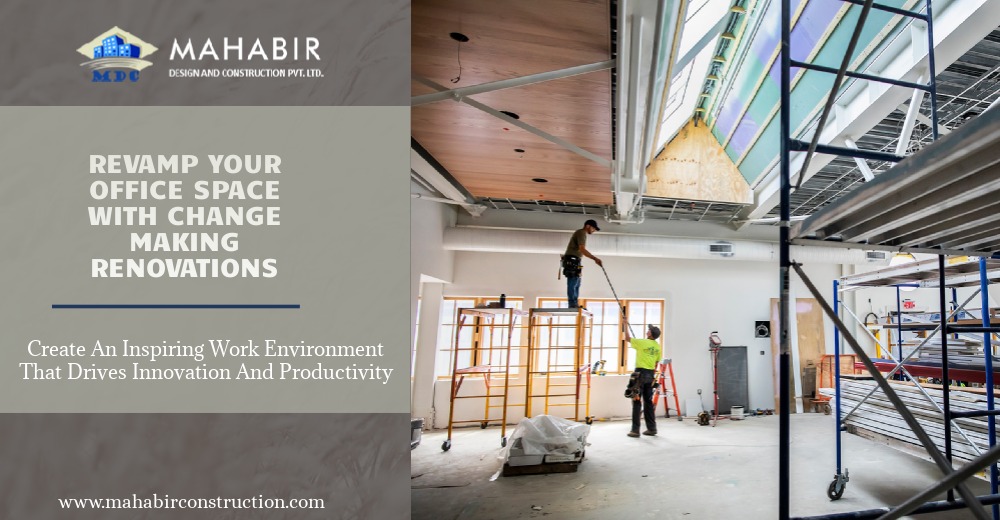 Mahabir, office Renovation Company has been offering top-notch office makeover services to companies all over the country for more than 20 years. We are well aware of the noteworthy impact a clean, good-looking workplace environment can have on both patrons and the workforce. We work hard to offer the finest office renovation services to our clients because of this. We recognize the value of establishing a warm and motivating workplace. The secret to increasing worker efficiency and client retention may lie in a well-planned workplace environment. We offer a variety of expert services at Mahabir Office Renovation Company to assist you in designing the ideal workspace. We possess the know-how and resources needed to make it happen whether you want to completely revamp your workplace or just create a few small changes. We can assist you in creating a workplace that is both attractive and practical and will enable you to grow your company.
Why Office Renovations Are Important and Their Benefits
Office makeovers are a great way to modernize and revamp a workspace's appearance. They might boost employee happiness or draw in fresh talent, among other advantages. It's critical to comprehend how remodelling the workplace benefits both employers and employees. One of the main advantages of workplace renovations is that they can contribute to the creation of a more enjoyable, cosy, and effective work atmosphere. Employee morale can be raised by using vibrant hues, contemporary decor, and improved illumination. Additionally, an optimized workplace will convey an authoritative and organized approach to clients and visitors, creating a positive first impression.
The value of hiring a qualified office renovation business
Office renovations can be a good way to improve your workspace's appearance and atmosphere while also increasing your team's efficiency. The workplace space can be updated in an orderly, productive, and economical way by a qualified office renovation business. It's crucial to search for an organization with experience in office renovations when picking one to work with. To assist you in creating an environment which looks great and promotes productivity for the staff, they must also have a solid grasp of the most recent advances in workplace layout and aesthetics. Additionally, it's critical to confirm the insurance and licensing of the business you select.
How Mahabir Renovation Company Can Help
The Mahabir Renovation Company offers a wide range of office renovation services. We work with you to develop a special strategy that fits your requirements and price range. From the initial concept to the final set-up, our team of qualified experts will supervise every element of your renovation to guarantee that it is finished on schedule and meets your expectations.
Your renovation will be of the highest standard thanks to the talented workers employed by Mahabir Renovation Company and their use of only the best supplies. We are committed to providing outstanding customer service, and will work closely with you at every stage to make sure your endeavor lives up to your standards.