Building Dreams: How Mahabir Constructions is Making Home Construction a Reality in Noida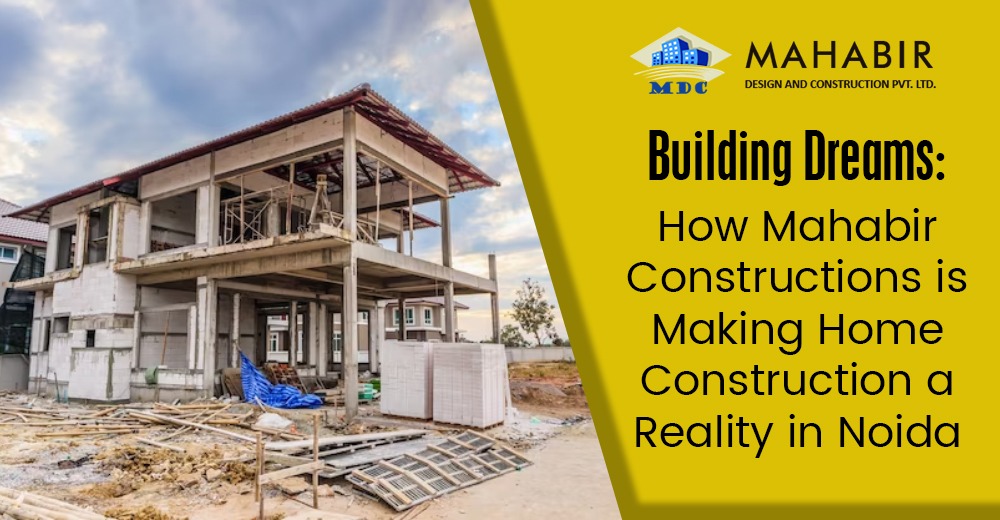 The prospect of building a home can be quite overwhelming, requiring a meticulous approach and expertise in the field of construction. Consequently, many homeowners in Noida opt for the services of professional construction companies to help actualize their dream homes. Mahabir Constructions is an established construction company in Noida that provides exceptional construction services to homeowners.
Mahabir Constructions, a Home Construction Company in Noidaboasts several years of experience in the construction industry, making them quite adept in handling all sorts of construction projects in Noida. They have a team of experts well-versed in tackling even the most complex construction projects with ease.
Pros of Constructing a Home With Mahabir Construction
One of the key advantages of Mahabir Constructions is their unparalleled attention to detail. Experts at Mahabir understand that every home is unique and they work closely with their clients to ensure that their abode meets their requirements. Mahabir offers customized solutions tailored to their client's needs and preferences in every project. Thus, every home built by Mahabir Constructions is a reflection of the homeowner's lifestyle and taste.
Mahabir Constructions' commitment to using only high-quality materials and adhering to the highest standards of workmanship is admirable. A team of skilled and experienced workers at Mahabir employs the latest tools and techniques to make certain that every project is executed to perfection. According to them, the duration and durability of the house depend greatly on the calibre of the building materials and the craftsmanship.
Mahabir Constructions understands that construction delays can be inconvenient for homeowners, and as such, they prioritizethe timely delivery of all their projects. They have a well-organized system in place to ensure that every project they work on is completed on time and within budget. This way, homeowners can move into their new homes promptly, without any unnecessary delays.
Services at Mahabir Construction
Besides their core construction services, Mahabir Constructions offers other services that can be of great aid to homeowners, such as interior design, architectural design, landscaping, and property management. Mahabir provides a one-stop solution for all your construction-related needs, making them the most reliable go-to construction company in Noida.
Mahabir Constructions' excellent customer service is also noteworthy. They understand how much of a significant investment home is for homeowners and as a result, they go the extra mile to make certain that their clients are satisfied with their services. Throughout the construction project, Mahabir's helpful and experienced staff of experts is constantly on hand to respond to any inquiries and offer direction. To be successful, they think it's essential to forge close bonds with their customers.
Why Makes Us the Best Option
Mahabir Constructions is a reliable and professional home construction company in Noida that helps homeowners build their dream homes. They are dedicated to providing first-rate client assistance and have an established history of completing exceptional building ventures on schedule and within budget. Property owners in Noida entrust them to carry out their building endeavours for a variety of reasons, including their keen eye for particulars, use of top-of-the-line supplies, and devotion to the finest quality of craftsmanship.